Few people realize that a group can accomplish what an individual alone cannot do—even when it comes to individual advancement. If you want the next promotion, you have to elbow that hardworking colleague next to you out of the way, right? Wrong. Here's a true story that shows you why.
It started when I sat across from three courteous, 1)poised, but frustrated female investment 2)bankers over a decade ago. "We need a 3)coach," said the young banker named Cindy, while her colleagues Leslie and Amy nodded in agreement. "It's not just the three of us," Leslie added. "The three of us are the selection committee. There are fifteen of us who want coaching, and our job is to pick a coach that can work with the whole group."
As it turned out, all fifteen members of the group had been 4)passed over for promotion within the last year. Amy said, "We don't want to 5)litigate, and we don't want to change firms. We like each other, and we like working here. However, we don't want to be 6)overlooked anymore. If someone can tell us what it takes to get ahead, we're ready to do it."
These fifteen women became my first coaching group. Over a decade later, I'm still reflecting on what this group of talented bankers taught me about power, trust, and teamwork.
The first step in our coaching was establishing each member's personal power style. Through exploring the four core power styles of the Pleaser, the Charmer, the Commander, and the Inspirer, each member of this group learned how to play to her 7)strengths and minimize her 8)blind spots on the job.
But they took it a step further. When looking for people who have the potential to make it to the 9)C-suite, many 10)seasoned business leaders have told me that they look for people who are able to move beyond an understanding of how to be personally powerful, and embrace the ability to support others. The key to embodying this quality on the job that isn't just thinking about how to motivate or advance others. It's about experiencing situations with them that foster a spirit of trust.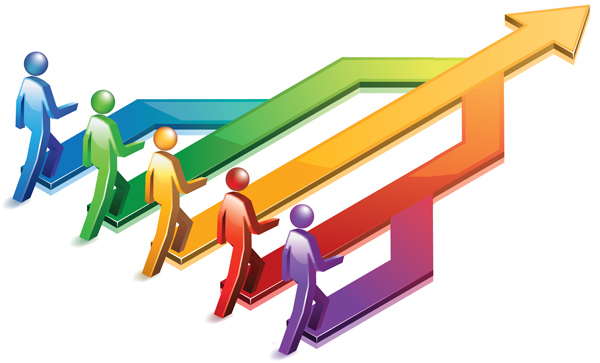 In order to do this, the participants started to role-play their habitual responses to challenges ranging from satisfying a demanding boss to managing a troublesome 11)subordinate in front of the group. These women would often 12)sit back and watch as other group members volunteered to act out how people with a different power style might respond to the same situation. It was fascinating to watch how insightful a group could be as they pondered each other's career challenge together. Each woman was given a new perspective and approach to consider things might not have 13)occurred to her without the team's 14)input. What's more, as the group members developed a sense of each other personally as well as professionally, their collective intuition for giving each other advice on how to 15)approach 16)tricky situations evolved at an amazing pace.
Over our six months together, as they celebrated their victories and supported each other when they faced 17)setbacks, it's not surprising that the participants became increasingly 18)committed to supporting each other at a human level. As this group developed a bond of trust through learning to appreciate the value of each other's power styles, they began to embody a team spirit that went beyond 19)collaboration. Their genuine commitment to bringing out the best in each other began to cause each of them, as individuals, to 20)exude a type of confidence and professional tone that supported their professional advancement.
And the results spoke for themselves. After the first four women from the coaching group got promoted, the company's Chairman gave me some news that had 21)stunned him after meeting them for lunch."These women completely 22)disarmed me," he said."While they thanked me for my support, they spent most of the lunch letting me know how talented the remaining women from their group were that hadn't been promoted yet. I can't even 23)fault them for lack of 24)killer instinct because they 25)took no prisoners when they asked me what they could do with me to make sure that each woman's manager understood the value she was bringing to the organization."
Fostering a spirit of trust is critical for 26)drawing out the best in any group. Discovering one another's power styles and how they interact in various situations can be a learning experience for everyone—and it's the first step in becoming a powerful 27)peer 28)mentor for growth.
很少有人意识到,团队可以完成那些只凭一人之力无法办到的事情——即便事关个人发展。如果你想得到下一个升职机会,你就必须将你身边那个努力工作的同事挤下去,对吗?不对。下面这个真实的故事会告诉你个中缘由。
故事开始于十多年前,当时我对面坐着三位谦恭有礼、镇定自若但倍感挫折的投资银行女高管。"我们需要一位导师,"那位名叫辛迪的年轻高管说道,她的同事莱斯利和艾米点头表示同意。"并不只是我们三个人需要,"莱斯利补充说,"我们三个人是选拔委员会。我们有十五个人都需要指导,而我们三人的任务是选出一位能够指引整个团队的导师。"
事情是这样的,在上一年里,这十五人都没能获得升职机会。艾米说:"我们不想诉诸法庭投诉不公,也不想跳槽。我们喜欢彼此,也喜欢在这里工作。但是,我们不想再被人忽视。如果有人能告诉我们怎样做才能出人头地,我们都已经蓄势待发。"
这十五位女士成了我指导的第一个团队。十多年过后,我仍在思索着这群才华横溢的银行高管所教给我的关于力量、信任和团队合作的启示。
在我们的指导工作中,第一步是建立每位成员的个人力量风格。通过对四种核心力量风格——取悦型、魅力型、指挥型和启发型——的探索,这个团队里的每位成员都学会了如何在工作中发挥其长处,并将其盲点最弱化。
而她们走得更远。当寻找那些有潜力进入最高管理层的人时,许多经验丰富的商界领袖都曾告诉我说,他们寻找的是那些不仅个人能力突出,还拥有支持他人力量的人。要在工作中体现出这种才能的关键并不只是要想着如何激励或使他人前进,而是要和他人一起体验个中状况以便培养出一种信任之情。
为了做到这一点,组员们开始在整个团队面前通过角色扮演呈现自己应对挑战的惯常方式,比如怎样应对苛刻的老板以及管理麻烦的下属。这群女士放松地看着其他组员自告奋勇表演拥有不同力量风格的人会如何应对某个相同的状况。看着整个团队一起仔细思考彼此所遇到的事业挑战,得出独到的见解,这情景令人着迷。每位女士得以用全新的角度和方式去思考问题,如果不是团队组员的启发,她们自己也许不会想到这样的角度。不仅如此,当团队成员从个人以及职业角度培养出彼此之间的情感时,她们为如何解决棘手问题而出谋划策的集体直觉也获得了惊人的提升。
我们在一起六个多月,大家一起庆祝胜利并在面对挫折时互相支持,难怪组员们变得更加致力于人性互助。随着这个团队学会欣赏彼此力量风格的价值,并由此培养出一种信任关系,她们开始体现出一种超越合作的团队精神。她们真心努力,相互挖掘彼此的最佳一面,使得她们每个人作为独立个体时都散发出一种自信和职业气质,最终推动了她们的职业晋升。
而最终结果说明了一切。当指导团队里的四位女士首先获得升职后,该公司董事长告诉我,与这些女士一起共进午餐后他一直惊叹不已。"这些女士让我彻底'缴械投降'了,"他说,"在对我的支持表示感谢后,她们午餐时大部分时间都用来告诉我其团队中那些还未获得提升的女士们是多么有才华。我甚至都无法责备她们缺乏杀生本性,因为当她们问到能够和我一起做些什么,以确保团队里每位女士的经理都能够了解其为这个团队带来的价值时,还真是毫不留情。"
要想发掘任何一个团队的最佳面,培养一种信任精神至关重要。发现每个人的力量风格,以及他们在不同情形下如何互动,对于每个人来说都是一种学习经历——这也是成为一位强有力的、助人成长的朋辈导师的第一步。