大家都知道,在艰难的经济环境下,能保住"饭碗"已经是很不错的事了。But who knows?谁又能保证下一秒钟,丢掉工作的人不会是你?
  
  Father: (On the phone) And there's nothing that can be done? Well, ①I guess that is that. Fine. Goodbye.
  Sam: Dad? What's wrong? What was that all about?
  Father: Oh, nothing. Everything is fine.
  Sam: You are not even the slightest bit 1)convincing. Come on, ②I wasn't born yesterday.
  Father: It's very complicated, Sam. Please don't talk to Chuck or your mother about this. I'm not sure they could handle it at the moment.
  Sam: OK, sure. ③Just get it off your chest. ④You don't need to bottle it up.
  Father: That was Tony on the phone.
  Sam: Your boss?
  Father: Yeah. He told me they have had to do some 2)restructuring in the company. They can't afford to keep everyone on the 3)payroll. And…well…I've been laid off.
  Sam: Oh, no! Dad, that's terrible.
  Father: I never saw this coming. I know times are hard, but I thought they respected me enough and appreciated the years I've put in. ⑤It's a real kick in the teeth.
  Sam: So what are we going to do?
  Father: I don't know. I'd better start searching for a new job before your mother finds out. This couldn't have come at a worse time. I've got car 4)repayments to make, not to mention the home loan…we might have to sell the house just to get by.
  Sam: ⑥Now, let's not get ahead of ourselves. There are always other options, and it's still early days. We can work something out.
  Father: I'm just so angry at them for letting me go, but even more angry at myself for not having a back-up plan in place in case something like this happened. I have no savings put away for this. How am I going to support my family. I've let you all down.
  Sam: Stop talking like that. We'll get through it. I'm going to call my friend Harris. He could get you started in sales position working from home.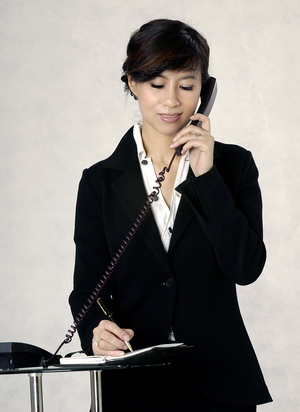 Father: You think he could get me work?
  Sam: Well, he owes me a few favours, so ⑦I'm sure he could pull a few strings. Just take it easy, Dad. It's not the end of the world.
  Father: Thanks, Sam. I sure I am lucky to have a son like you.
  Sam: Don't mention it. Ah, the mailman is here; maybe he has some good news for us…
  Father: No, that mailman brings nothing but bad news.
  
  父亲:(讲电话)真的没有挽回的余地了吗?那么,我想就只能这样了。好的,再见。
  萨姆:爸?怎么啦?出什么事了?
  父亲:噢,没什么。一切都还好。
  萨姆:你可真是一点说服力也没有。别这样,我又不是三岁小孩。
  父亲:这事很复杂,萨姆。请别跟查克或你妈提起这个。在这个时候,我怕他们接受不了。
  萨姆:好的,当然了。说出来吧,你没必要把事情憋在心里。
  父亲:刚才我是跟托尼通电话。
  萨姆:你的老板?
  父亲:对。他告诉我,他们不得已要调整公司的架构。他们支付不了所有人的工资。所以……呃……我就失业了。
  萨姆:噢,不!爸爸,这太可怕了。
  父亲:我从来没想过会有这一天。我知道现在世道艰难,但我以为他们会尊重和感激我多年来对公司的贡献。真是个重大打击。
  萨姆:那么,我们该做些什么呢?
  父亲:我不知道。在你妈发现之前,我最好开始找份新工作。事情偏要在最糟糕的时候发生。我还要养车,更不用说我还得还房贷……很有可能我们得把房子给卖掉才熬得过去。
  萨姆:现在我们先别自己吓唬自己。总有其他办法的,现在为时尚早。我们会想出办法的。
  父亲:他们把我开除了,我很生气,但是更让我生气的是,自己竟然没有未雨绸缪,准备好恰当的后备计划预防类似情况的发生。我没有准备任何积蓄来应付这种状况。我怎么支撑这个家呢?我让你们失望了。
  萨姆:不要那样说。我们会挺过去的。我准备打电话给我朋友哈里斯。他可以让你在家开始做销售职位上的工作。
  父亲:你觉得他可以帮我找到工作吗?
  萨姆:嗯,他还欠我不少人情呢。所以我敢肯定他会帮忙找关系的。别着急,爸爸。又不是世界末日。
  父亲:谢谢,萨姆。有你这样的儿子我真是走大运了。
  萨姆:客气什么呀。啊,邮递员来了,也许给我们捎来好消息了……
  父亲:不可能,那个邮递员只会捎来坏消息。
  
  Smart Sentences
  ① I guess that is that. 我想就只能这样了。
  that is that: there is nothing more you can do or say about a particular matter(就那么着吧,就这么定了)。例如:
  I'm staying here and not going anywhere. And that's that.
  我就呆在这儿,哪儿也不去。就这么定了。
  ② I wasn't born yesterday. 我又不是三岁小孩。
  I wasn't born yesterday.: used to indicate the speaker's dissatisfaction that he/she isn't taken seriously because of his/her age(用以表达说话者因年龄小而不被重视的不满)。例如:
  Come on, tell me the secret. I wasn't born yesterday.
  快嘛,把秘密告诉我,我已经不是小孩子了。
  ③ Just get it off your chest. 说出来吧。
  get sth. off sb.'s chest: talk about sth. that has been worrying sb.(倾诉,倾吐)。例如:
  Well, that's all. Gee, I feel good getting that offmy chest.
  好了,就是那样。哗,说出来感觉到真好。
  ④ You don't need to bottle it up. 你没必要把事情憋在心里。
  bottle sth. up/bottle up sth.: do not express or show some strong feelings, especially when it's making sb. angry or tense(压抑情感,特别是愤怒或紧张的情感)。例如:
  He is obviously bottling something up inside himself.
  显然,他内心隐藏着一些东西。
  ⑤ It's a real kick in the teeth. 真是个重大打击。
  a kick in the teeth: used to emphasize that it is a severe setback or disappointment(重大挫折)。例如:
  Not being accepted by colleges is surely a kick in the teeth for an excellent student like Kate.
  对像凯特这样优秀的学生来说,不被大学录取肯定是一个重大打击。
  ⑥ Now let's not get ahead of ourselves. 现在我们先别自己吓唬自己。
  get ahead of oneself: move faster than planned(提前一步,超前)。例如:
  Don't get ahead of yourself yet. We have a lot more to do right now.
  先别超前行动,我们现在还有许多事要做呢。
  ⑦ I'm sure he could pull a few strings. 我敢肯定他会帮忙找关系的。
  pull strings: use your influence with other people in order to get sth. done, often unfairly(通过私人关系,走后门)。例如:
  Kate is sure she can pull a few strings and get you in.
  凯特肯定她能通过关系,让你进去的。