【THE CASUALTIES OF CIVILIZATION·都是文明惹得"祸"】
文字难度:★★★
  Here is a camel story—One day an Arab and his camel were crossing the desert. Night came and the temperature became colder. The Arab put up his tent and tied the camel to it. The Arab went to sleep. The temperature became slightly colder and the camel asked the Arab if he could just put his nose in the tent to warm up. The Arab agreed that the camel could just put his nose in, because the tent was small and there was no room for two. So the camel's nose became warm and after a while the temperature went down even more. The camel asked the Arab again, if he could just put his fore legs in because they were very cold. The Arab reluctantly agreed that the camel could only put his fore legs in and no more. So the camel moved in his fore legs and they became warm. After some time the camel told the Arab that he had to put in his 1)hind legs or else he won't be able to make the journey the next morning with frozen legs. So the Arab agreed and once the camel moved his hind legs in, there was no more room in the tent for the Arab and the Arab was kicked out.
  It would probably have little 2)resonance if the camel is compared to modern technologies, especially in an age of "admiration for technologies." Ever since the Industrial Revolution, technology has been changing at a fast pace and more importantly, it has gradually been placed in top priority of people's admiration. In the name of "civilization" and "a better life", people always want the new improvements brought by technology. Therefore, there is always something new arising so humans can cope with their physical environment. No one can deny that technologies have helped human beings to adapt to an easier way of life. Nevertheless, in the long term, they might not be as beneficial as people realize. Advanced technologies are potential threats to devastate the living environment.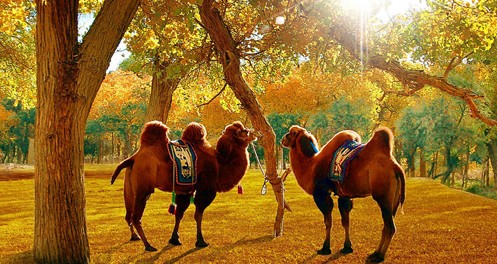 给你讲个关于骆驼的故事:一天,一个阿拉伯人和他的骆驼正穿越着沙漠。夜幕降临,气温下降,那个阿拉伯人搭起帐篷,并用绳子把骆驼绑在帐篷的一边。阿拉伯人睡觉去了。气温又稍微下降了些,骆驼问阿拉伯人能否让它把鼻子伸进帐篷里取取暖。由于帐篷小,容不下两者,所以阿拉伯人允许骆驼只把鼻子伸进来。于是骆驼的鼻子暖和了。过了一会儿,气温降得更厉害了,骆驼的前肢冻僵了,它又问那个阿拉伯人,能否让它把前肢伸进去。阿拉伯人勉强同意了,但不许它再得寸进尺。于是骆驼把前肢伸进去,前肢顿时暖和起来。又过了一会儿,骆驼跟阿拉伯人说,它得把后肢也伸进帐篷里,不然第二天腿冻僵了就没法继续上路。阿拉伯人只好同意了。等骆驼一把后肢伸进去,帐篷里就容不下阿拉伯人了。他被踢了出来。
  如果把那只骆驼比作现代科技,这可能很难引起共鸣,特别在当今这个"崇尚科技"的时代里。自从工业革命以来,科技飞速发展,更重要的是,它已逐渐成为人们崇尚的头号对象。打着"文明"和"更好的生活"的旗号,人们总渴求着科技更大限度地改善生活。因此,新事物总是层出不穷,人类能以此来应对自然环境。谁也不能否认科技让人们过上了更舒适的生活。然而,从长远来看,现代科技可能并非如人们所认识的那样大有裨益。先进的技术是破坏生存环境的潜在因素。
  All thanks to the vehicles on the streets, a realization 3)dawned on us—clouds of smoke from the vehicles enveloped not only the entire road but also choked our 4)respiratory tract and just for an 5)iota of a minute transported us to a world which was all black and 6)dreary. The scores of vehicles at innumerable crossroads in countless countries spit black 7)fumes and cause pollution of the highest order. The rate at which pollution is increasing, it won't come as a surprise to one day find island nations expressing their concern like 8)Maldives 9)scouting for a country for its 10)denizens.
  All thanks to 11)pesticides, we finally know who should shoulder the responsibility for the deaths of billions of honeybees worldwide. Some scientists believe that these pesticides, which are applied to seeds, travel 12)systemically through the plant and leave 13)residues that 14)contaminate the 15)pollen, resulting in bee death or 16)paralysis. Most pesticides, we're told, are safe. But it's only a 17)tale. And sadly we add about 5 billion pounds of the deadly chemicals to our world each year, enough to encircle the planet if it were packaged in 100-pound sacks.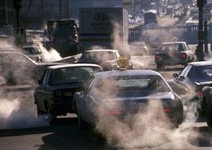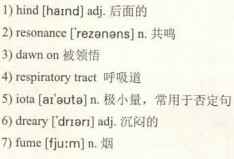 全亏了街道上的车辆,我们才忽然认识到这么一种现状——车辆排放出团团烟雾,不仅笼罩着整个路面,还使我们呼吸困难。并且,只消几秒钟的功夫,我们的世界就会变得乌烟瘴气。无数国家里数不清的十字路口上,大量车辆排放出黑色浓烟,把污染推至最高级别。污染按这样速度加剧,那么终有一天那些岛国也会如马尔代夫那样为其国民寻找第二个落脚地的,他们对自身生存的担忧来得一点儿也不奇怪。
  全亏了农药,我们最终明白谁该为全球数十亿蜜蜂的死亡负责。一些科学家认为,这些农药喷到种子上,会被吸收进植物里面,而农药残余污染花粉,导致蜜蜂瘫痪或死亡。我们被告知,大多数农药是安全的。但那只是不实之辞。可悲的是,我们每年都会给我们的世界增添50亿磅(约20亿公斤)致命的化学物质。如果把它们装进一个个100磅容量大的袋子里,这些袋子多得都足以环绕整个地球了。
  All thanks to the Plastic Age, now scientists say that a common 18)ingredient in most plastics, called Bisphenol A, or BPA, causes reproductive harm in rats at levels below what most humans are exposed to every day. In fact, BPA was first developed in the 1930s as a 19)synthetic estrogen. For whatever reason, someone decided that it would make a great 20)liner for canned food products and an additive for plastics manufacturing. As a result, 95% of adults have a measurable amount of BPA in our blood and 21)urine.
  All thanks to the atomic bombs over 22)Hiroshima and 23)Nagasaki, thousands of people were killed, most of who were civilians. And more and more people died from 24)leukemia and 25)solid cancers attributed to exposure to radiation released by the bombs. Having helped create this horrific tool of destruction, 26)J. Robert Oppenheimer, the physicist who led the 27)Manhattan Project, which developed the atomic bomb, opposed building an even more powerful 28)hydrogen bomb. As did Einstein, who later 29)lamented, "If only I had known, I should have become a watchmaker."
  That is what the technologies we are so proud of have brought to us. Believe it or not, the advancement of technology is like that camel, 30)shoving human beings aside and leaving us less and less space to live.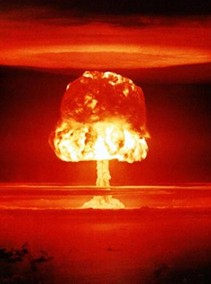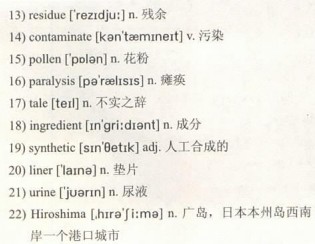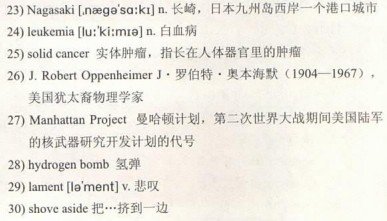 全亏了这个塑料时代,如今,科学家们说大多数塑料里的普遍成分——双酚A,简称BPA,会损害鼠群的生殖系统,而大多数人每天接触这种造成损害的双酚A的量竟比鼠类接触的量要高。事实上,在20世纪30年代,BPA最初是作为人造雌性激素开发出来的。出于某种原因,有人认为把它用作罐头内部的垫片十分不错,也有人把其用作塑料制品的添加剂。这样说来,在95%的成年人其血液和尿液中所含BPA成分的量就相当可观了。
  全亏了广岛和长崎上空的原子弹,数千人遇害,其中大部分是平民。且越来越多的人死于因原子弹辐射造成的白血病和实体肿瘤。物理学家J·罗伯特·奥本海默参与制造这一可怕的毁灭性工具,他是美国"原子弹之父"、曼哈顿计划的负责人。他反对研制威力更大的氢弹。爱因斯坦也反对,他后来悲叹道:"如果我早知道会这样,我就去当个钟表匠算了。"
  这就是那些我们那么引以为豪的科技带给我们的后果。不论你相信与否,科技的进步正像那头"骆驼",把人类挤到一边,抢占了我们越来越多的生存空间。