欧·亨利,原名威廉·西德尼·波特(William Sydney Porter),是美国最著名的短篇说家之一,曾被评论界誉为曼哈顿桂冠散文作家和美国现代短篇小说之父。欧·亨利善于描写美国社会尤其是纽约百姓的生活。他的作品构思新颖,语言诙谐,结局常常出人意外,被誉为"欧·亨利式结尾",又因描写了众多的人物,富于生活情趣,被誉为"美国生活的幽默百科全书"。
  他的代表作有《爱的牺牲》、《警察与赞美诗》、《麦琪的礼物》、《最后一片藤叶》等。

文字难度:★★★
  
  We were down South, in Alabama-Bill and myself-when this 1)kidnapping idea struck us. It was, as Bill afterward expressed it, "during 2)a moment of temporary mental apparition".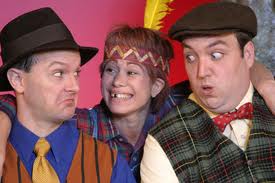 There was a town down there, called Summit.
  We selected for our victim the only child of a prominent citizen named Ebenezer Dorset. The kid was a boy of ten, with 3)freckles
  One evening after sundown, we drove in a 4)buggy past old Dorset's house. The kid was in the street, throwing rocks at a kitten on the opposite fence.
  "Hey, little boy!" says Bill, "Would you like to have a bag of candy and a nice ride?"
  The boy catches Bill neatly in the eye with a piece of brick.
  That boy put up a fight, but at last, we got him and drove away.
  We took him up to the cave. The boy, with two 5)buzzard tail feathers stuck in his red hair, points a stick at me when I come up, and says:
  "Ha! Cursed 6)paleface, do you dare to enter the camp of Red Chief ?"
  That boy seemed to be having the time of his life. The fun of camping out in a cave had made him forget that he was a 7)captive himself.
  "Red Chief," I said to the kid, "would you like to go home?"
  "Aw, what for?" says he. "I don't have any fun at home. I hate to go to school. I like to camp out. "
  I went up on the peak of the little mountain and ran my eye over the area. But over toward Summit what I saw was a peaceful landscape.
  比尔和我忽然起了绑架的念头是在南部的阿拉巴马州。正如比尔后来所说,那是"一时的鬼迷心窍"。
  那儿有个小镇,名叫顶峰镇。
  我们选中镇上的知名人士艾本尼泽•多赛特的独生子作为我们的牺牲品。小家伙10岁了,脸上长满了雀斑。
  一天傍晚,我们驾着马车经过老多赛特家门口。小家伙在街上,正朝对面篱笆墙上的小猫扔石头。
  "嗨,小家伙,"比尔叫道,"想不想吃袋糖,坐车兜兜风?"
  小家伙用小砖块不偏不倚地把比尔的眼睛打了个正着。
  小家伙和我们厮打起来,但最后我们还是把他抓住,驾车离去。
  我们把他带到山洞。小家伙红色的头发上插着两根鸟尾毛。当我走近时,他用一根树枝指着我说:
  "哈,该死的白脸鬼,你胆敢擅闯红酋长的营地?"
  小家伙似乎平生第一次玩得如此开心。山洞宿营的乐趣使他忘了自己是被绑架来的。
  "红酋长,"我问小家伙,"你想回家吗?"
  "噢,回家干什么?"他说,"家里没意思。我讨厌上学。我喜欢在野外露营。"
  我爬上小山顶,环顾四周。但在顶峰镇方向,我看到的却是一派宁静的景象。
  After breakfast the next day, the kid takes a piece of leather with strings wrapped around it out of his pocket and goes outside the cave unwinding it.
  Just then we heard a kind of war-8)whoop. It was a 9)sling that Red Chief had pulled out of his pocket.
  I 10)dodged, and heard a heavy 11)thud and a kind of a sigh from Bill. A rock the size of an egg had caught Bill just behind his left ear. He loosened himself all over and fell in the fire across the frying pan of hot water for washing the dishes. I dragged him out and poured cold water on his head for half an hour.
  I went out and caught that boy and shook him.
  "If you don't behave," says I, "I'll take you straight home. "
  "I'll behave if you won't send me home," says he 12)sullenly.
  By and by, Bill sits up and feels behind his ear and says: "You know, Sam, I never lost my nerve yet till we kidnapped the little devil."
  Bill begged me tearfully to make the ransom fifteen hundred dollars instead of two thousand. "I'm willing to take a chance at fifteen hundred dollars. You can charge the difference up to me."
  So, to relieve Bill, I 13)acceded, and we 14)collabo-rated a letter that ran this way:
  第二天早饭过后,小家伙从口袋里掏出一块四周绕着绳子的皮革,然后到洞外把绳子解开。
  就在那时,我们听到一声巨响。那是红酋长从口袋里掏出的弹弓所发出的声音。
  我闪到一边,只听见一声闷响和比尔叹息似的呻吟。一块鸡蛋大小的石头正好打到比尔的左耳后。他立刻全身瘫软,扑倒在正烧着洗碗水的煎锅里。我把他拉出来,往他的头上泼了半小时的冷水。
  我走出去,抓住小家伙拼命地摇。
  "如果你不听话,"我说,"我马上把你送回家。"
  "我会乖乖的,只要你不把我送回家。"他嘟哝着。
  比尔慢慢地坐了起来,他摸着耳后,说:"山姆,你知道的,在我们绑架这个小混蛋以前,我从来不知道胆怯的滋味。"
  比尔眼泪汪汪地恳请我将赎金从2000美元减到1500美元。"我宁可只要1500美元。你把差额就记在我的账上吧。"
  为了安慰比尔,我同意了。于是,我们一起写了如下的信:
  Ebenezer Dorset, 15)Esq.,
  We have your boy concealed in a place far from Summit. Absolutely, the only terms on which you can have him restored to you are these: We demand fifteen hundred dollars for his return; the money to be left at midnight tonight at the same spot and in the same box as your reply-as 16)hereinafter described. Send your answer in writing by a solitary messenger tonight at half past eight o'clock. After crossing Owl Creek, on the road to 17)Poplar 18)Cove, there are three large trees about a hundred yards apart, close to the fence of the wheat field on the right hand side. At the bottom of the fencepost, opposite the third tree, will be found a small pasteboard box.
  If you attempt any 19)treachery or fail to comply with our demand as stated, you will never see your boy again.
  TWO DESPERATE MEN.
  艾本尼泽•多赛特先生:
  我们把你的儿子藏到了离顶峰镇很远的地方。如果你想要他回去,就得完全同意以下条件:我们要你用1500美元换他回去,在今晚午夜时分,钱必须随同回信放置在同一地方的同一盒子里。做法如下:今晚8点半单独派一名送信人送来你的书面答复。在去白杨凹的路上,经过猫头鹰小溪后,右手边靠近麦田篱笆的附近,有三棵间隔大约100码的大树。在正对着第三棵树的篱笆柱下,你将看到一个小纸板盒。
  如果你试图搞阴谋诡计或不接受我们上述的条件,你将再也见不到你的儿子。
  两个亡命之徒
  As I was about to start, Bill says, "Sam, I wish we hadn't made the ransom more than a thousand. "
  I walked over to Poplar Cove, then posted my letter 20)surreptitiously and came away.
  When I got back to the cave Bill and the boy were not to be found.
  In about half an hour Bill 21)wabbled out into the little 22)glade in front of the cave. Behind him was the kid, stepping softly like a scout, with a broad grin on his face.
  "What's the trouble, Bill?" I asks him.
  "For an hour I had to try to explain to him why there was nothin' in holes, how a road can run both ways and what makes the grass green. I tell you, Sam, a human can only stand so much."
  "I showed him the road to Summit and kicked him about eight feet nearer there at one kick," continues Bill. "I'm sorry we'll lose the ransom, but it was either that or Bill Driscoll to the madhouse."
  Bill is puffing and blowing, but there is a look of 23)ineffable peace and growing content on his rose pink features.
  "Bill," says I, "there isn't any heart disease in your family, is there?"
  "No, Why?" says Bill.
  "Then you might turn around," says I, "and have a look behind you."
  Bill turns and sees the boy, and loses his complexion and sits down plump on the ground.
  At half past eight that night, I was up in that tree, waiting for the messenger to arrive.
  Exactly on time, a boy rides up the road on a bicycle, locates the pasteboard box at the foot of the fencepost, slips a folded piece of paper into it and 24)pedals away again back toward Summit.
  I waited an hour and then concluded the thing was square. I slid down the tree, got the note, slipped along the fence till I was back at the cave. I opened the note, got near the lantern and read it to Bill.
  当我准备出发时,比尔说道:"山姆,我真希望我们的赎金没超过1000美元啊!"
  我到了白杨凹,偷偷把信投递了出去,然后离开。
  我回到山洞时,比尔和小家伙都不见了。
  大约半个小时后,比尔摇晃地走到山洞前的一小块空地上。小家伙像侦察兵一样悄悄地跟在后面,咧着嘴大笑。
   "怎么了,比尔?"我问他。
  "我花了一个小时给他讲解为什么洞是空的,为什么路可以有两个方向,为什么草是绿的。山姆,这够让人受的了。"
  "我告诉他回顶峰镇的路,一脚把他踢了8英尺远。"比尔接着说,"很遗憾我们没有了赎金,但是如果不这样,我比尔•德利斯科尔会被送进疯人院的。"
  比尔气喘吁吁,但他涨红的脸上露出一种说不出的平静和越来越满足的神情。
  "比尔,"我说,"你们家族没有心脏病史吧?"
  "没有啊,怎么了?"比尔答道。
  "那么你可以转身了,"我说,"看看你身后吧。"
  比尔转身看到了小家伙,大惊失色,一屁股坐到了地上。
  那天晚上8点半,我爬上了树,等待送信人的到来。
  就在约定的那个时间,一个小伙子骑着自行车从路那边过来了。他在篱笆柱下找到了那个纸板盒子,将一张叠好的纸条塞了进去,然后骑着自行车回顶峰镇去了。
  我等了一个小时,确定没有危险后,才滑下树,拿了纸条,沿着篱笆一直溜回山洞。我打开纸条,拿到灯下念给比尔听。
  Two Desperate Men,
  I received your letter today by post, in regard to the ransom you ask for the return of my son. I hereby make you a counter 25)proposition, which I am 26)inclined to believe you will accept. You bring Johnny home and pay me two hundred and fifty dollars in cash, and I agree to take him off your hands.
  EBENEZER DORSET.
  "Great pirates!" says I, "of all the 27)impudent-"
  But I glanced at Bill, and hesitated.
  "Sam," says he, "what's two hundred and fifty dollars, after all? One more night of this kid will send me to a bed in 28)bedlam. You ain't going to let the chance go, are you?"
  It was just twelve o'clock when we knocked at Ebenezer's front door. When the kid found out we were going to leave him at home he started up a howl and fastened himself as tight as a 29)leech to Bill's leg. His father peeled him away gradually, like a 30)porous 31)plaster.
  "How long can you hold him?" asks Bill.
  "I'm not as strong as I used to be," says old Dorset, "but I think I can promise you ten minutes."
  "Enough," says Bill. "In ten minutes I shall cross the Central, Southern and Mid-Western States."
  And, as dark as it was, and as fat as Bill was, and as good a runner as I am, he was a good mile and a half out of Summit before I could catch up with him.
  两位亡命之徒:
  今天我收到了你们关于索要我儿子赎金的信。我特此提出一个相反的建议,我想你们肯定会接受的。你们把约翰尼送回家,并付给我250美元现金,我才同意从你们手上接过他。
   艾本尼泽•多赛特
  "简直是大海盗!"我说,"真是厚颜无耻——"
  但我瞥了比尔一眼,没再说下去。
  "山姆,"他说,"250美元究竟算得了什么呢?这小子再多待一个晚上,我就会被送到疯人院的床上去了。你不会放弃这个机会的,是吗?"
  我们敲开艾本尼泽家前门时,正好是午夜12点。当小家伙发现我们准备把他留在家里时,开始嗥叫起来,并像水蛭一样紧紧抓住比尔的腿不放。他父亲像揭膏药一样将他一点点地拉了过去。
  "你能拉住他多长时间?"比尔问。
  "我已不如以往那么壮实了,"老多赛特说,"但我想应该能保证10分钟吧。"
  "足够了,"比尔说,"在10分钟内,我能够穿越中部、南部和中西部各州。"
  尽管天很黑,比尔很胖,而我又跑得很快,但当我追上比尔时,他早已跑出顶峰镇足足一英里半了。