"股神"巴菲特的唯一授权传记
  A Thousand Ways (Excerpt)
  1000招(节选)
美式发音 适合精读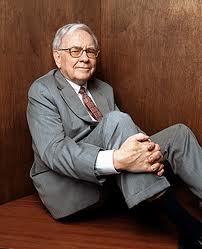 The first few cents Warren Buffett ever earned came from selling packs of chewing gum. And from the day he started selling—at six years of age—he showed an 1)unyielding attitude toward his customers that revealed much about his later style.
  "I had this little green tray, which had five different areas in it. It had containers for five different brands of gum, Juicy Fruit, Spearmint, Doublemint, and so on. I would buy packs of gum from my grandfather and go around door to door in the neighborhood selling this stuff. I used to do that in the evening, largely.
  "I remember a woman named Virginia Macoubrie saying, 'I'll take one stick of Juicy Fruit.' I said, 'We don't break up packs of gum.'—I mean, I've got my principles. I still, to this day, remember Mrs. Macoubrie saying she wanted one stick. No, they were sold only in five-stick packs. They were a 2)nickel, and she wanted to spend a penny with me."
  Making a sale was tempting, but not tempting enough to change his mind. If he sold one stick to Virginia Macoubrie, he would have four sticks left to sell to somebody else, not worth the work or the risk. From each whole pack, he made two cents profit. He could hold those pennies, weighty and solid, in his palm. They became the first few 3)snowflakes in a snowball of money to come.
  What Warren was willing to break up were red cartons of Coca-Cola, which he sold door to door on summer nights. He carried on selling them during family vacations, approaching 4)sunbathers around the shores of Lake Okoboji in Iowa. Soda pop was more profitable than chewing gum: He 5)netted a nickel for every six bottles, and stuffed these coins proudly into the ball-park-style nickel-plated money changer on his belt. He also wore it when he went door to door selling copies of the Saturday Evening Post and Liberty magazines.
  The money changer made him feel professional. It 6)emblemized the part of selling that Warren most enjoyed: collecting. Although he now collected bottle caps, coins, and stamps, mainly, he collected cash. He kept his coins at home in a drawer, sometimes adding to the $20 his father had given him when he turned six, all recorded in a little 7)maroon passbook—his first bank account.
  To his family's amusement and surprise, by the spring of 1942, his 8)hoard totaled $120.
  Enlisting his sister Doris as a partner, he bought three shares of a stock for each of them, costing him $114.75 for his three shares of Cities Service Preferred.
  "I didn't understand that stock very well when I bought it," he says; he knew only that it was a favorite stock that 9)Howard had sold to his customers for years.
  The market hit a low that June, and Cities Service Preferred plunged from $38.25 to $27 a share. Doris, he says, "reminded" him every day on the way to school that her stock was going down. Warren says he felt terribly responsible. So when the stock finally recovered, he sold at $40, netting a $5 profit for the two of them. "That's when I knew that he knew what he was doing," Doris recalls. But Cities Service quickly soared to $202 a share. Warren learned three lessons and would call this 10)episode one of the most important of his life. One lesson was not to overly 11)fixate on what he had paid for a stock. The second was not to rush unthinkingly to grab a small profit. He learned these two lessons by 12)brooding over the $492 he would have made had he been more patient. It had taken five years of work, since he was six years old, to save the $120 to buy this stock. Based on how much he currently made from selling golf balls or 13)peddling popcorn and peanuts at the ballpark, he realized that it could take years to earn back the profit he had "lost." He would never, never, never forget this mistake.
  And there was a third lesson, which was about investing other people's money. If he made a mistake, it might get somebody upset at him. So he didn't want to have responsibility for anyone else's money unless he was sure he could succeed.
  
  沃伦·巴菲特首次挣得的几美分来自卖口香糖。从他第一次卖口香糖的那天——6 岁——开始,他就表现出对顾客毫不让步的态度,这在很大程度上反映了他日后的交易风格。
  "我有一个小小的绿色盘子,里面被分成了5个部分。这个东西能分装5个牌子的口香糖,黄箭、绿薄荷、绿箭等等。我从祖父那里买上几包,然后逐门逐户地向邻居推销这些东西。我经常会在晚上做这件事。
  我记得有一名叫弗吉尼亚·麦考布里的女士说,'我要买一片黄箭。'我说,'我们不拆卖。'——我的意思是我有自己的原则。直到今日,我依然记得麦考布里夫人说她想要一片。不行,只能一包五片一起卖。五片5美分,而她只想在我这里花1美分。"
  做成一笔买卖是很诱人的事,但是还不足以诱惑沃伦改变心意。如果他卖一片给弗吉尼亚·麦考布里夫人,那他就得把剩下的四片卖给其他人,一片口香糖不值得这么做或冒这个险。每卖一整包,他能赚2美分。他可以手里拿着这些硬币,沉甸甸的,实实在在的。它们就是日后滚动的资金雪球最初的几片雪花。
  沃伦愿意拆开卖的是红色包装箱里的可口可乐,他在夏天的晚上挨家挨户地叫卖汽水。他在随家人度假时也一直卖,向那些在衣阿华州奥科博吉湖岸边晒日光浴的人兜售。汽水比口香糖赚钱多了:每卖6瓶汽水,他能挣5美分。沃伦把挣来的硬币自豪地塞进挂在腰带上的一个棒球场形状的镀镍零钱找换器。当沃伦一家家售卖《星期六晚间邮报》和《自由》杂志的时候,他也挂着这个东西。
  零钱找换器让他觉得自己很专业,它代表着买卖过程中沃伦最喜欢的一个环节:收藏。虽然他在那个时候主要收藏瓶盖、硬币和邮票,但他主要收集现金。他把硬币放在家中的一个抽屉里。他有一个小小的栗色银行存折,那是他的第一个银行账户,里面有20美元——父亲在他6岁时给他的钱,有时他会把硬币存入银行,而每一次存款都记录在这本存折上。
  让家里人感到好玩和吃惊的是,到了1942年的春天,沃伦已经有120美元了。
  姐姐多丽丝被他招募为合伙人,沃伦为自己和姐姐各买了城市服务公司的3股优先股,3股一共花了114.75美元。
  "我买的时候并不懂那只股票,"他说。他只知道那只股票是父亲霍华德最喜欢的一只股票,很多年来都在向客户推荐。
  那年6月,市场走势低迷,一路下跌。城市服务公司的优先股股价从38.25美元跌到27美元。沃伦说,在上学的路上,多丽丝每天都"提醒"他,她的股票正在下跌。沃伦觉得责任压力大得可怕。因此,当股票最终回升的时候,他以40美元卖出,为自己和多丽丝赚了5美元。"那个时候,我才了解到,沃伦知道自己在做什么。"多丽丝回忆说。不过,城市服务公司的股价很快就高涨到202美元。沃伦学到了三个教训,并把这个插曲称为他一生中最重要的事件之一。第一个教训是,不要过分关注股票的买入成本。第二个教训是不要不动脑筋地急于抓住蝇头小利。如果他能更耐心一点,他就能赚到492美元,对此他一直念念不忘,从而得到这两个教训。从他6岁开始,他干了5年活才积攒下120美元买了这只股票。以那会儿从出售高尔夫二手球、在棒球场卖爆米花和花生中赚到的钱为基准来计算,沃伦意识到,要把"丢失"的利润赚回来,那得用好多年。他将永远、永远、永远地记住这个错误。
  还有第三个教训,与投资他人资金有关。如果他出现投资失误,那可能会有人因此而迁怒于他。因此,他不想对其他任何人的资金负责,除非他非常确信自己会成功。
  
  翻译参考中信出版社的译本,略有改动。
巴菲特的金玉良言
★ A public-opinion poll is no substitute for thought.
★ Risk comes from not knowing what you're doing.
★ You only have to do a verry few things right in your life so long as you don't do too many things wrong.
★ Chains ofhabit are too light to be felt until they are too heavy to be broken.
★ If past history was all there was to the game, the richest people would be librarians.
★ It takes 20 years to build a reputation and five minutes to ruin it. If you think about that, you'll do things differently.
★ Let blockheads read what blockheads wrote.